Image: Peter Waples-Crowe (Ngarigo), detail from 'Snow People' 2021, see exhibition HEAR.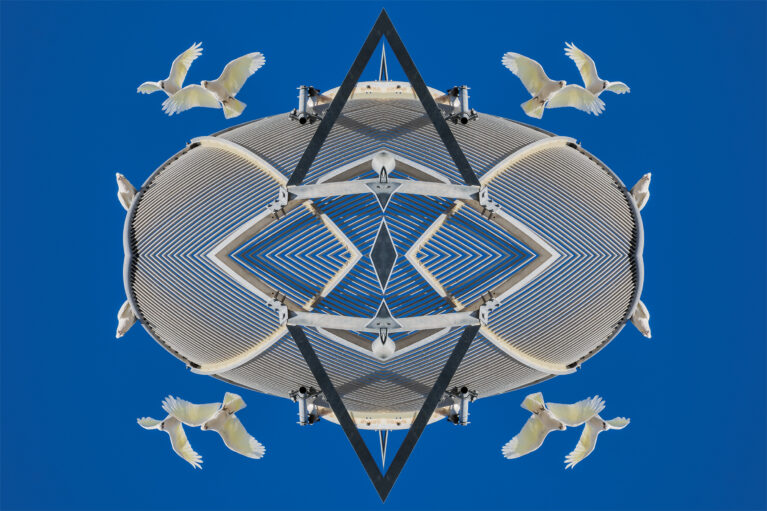 Image: Kent Morris, Barkindji Blue Sky, Ancestral Connections #2, 2019. Courtesy Vivien Anderson Gallery.
Acknowledging how incredibly challenging these pandemic times are for the creative and knowledge sectors in particular, CLIMARTE has been making the most of some new opportunities being created.
After more than a decade of working at the nexus between the Arts, Science and Civil Society, we are thrilled to present the world's first Climate Emergency focussed gallery at 120 Bridge Road, Richmond. Doors open on 10th November 2021, as UN delegates are in the final days of critical COP26 negotiations in Glasgow (more on this later). Having a dedicated space to shape justice-based Climate Emergency action plans feels like an incredibly exciting next step that we hope you will take with us.
Inaugural Exhibition: HEAR
Conceived as the CLIMARTE Gallery's inaugural exhibition, HEAR is an exhibition of contemporary First Nations art. This work calls for all people to listen to and care for Country. It calls on all of us, as an immediate priority, to HEAR the voices of Traditional Owners.
In the words of participating artist Professor Brian Martin: "Indigenous relational connection to Place and Country is important for all people as it teaches us about respect, sustainability and care for the non-human and agency of Country. This is something that is of vital importance for our collective futures. It is here that Indigenous creative practices allow us to converse in these material and immaterial connections."
We feel humbled by the opportunity to present this exceptional collection of deeply engaging artwork and thank all participating artists, including Professor Brian Martin (courtesy William Mora Galleries), Kent Morris and James Tyler (courtesy Vivien Anderson Gallery), Deanne Gilson, Peter Waples-Crowe and Creative Producer, Jo Lane.
Showing from 10th Nov-18th Dec 2021, HEAR is made possible thanks to an Annual Grant from the City of Yarra.
Gallery details:
120 Bridge Road, Richmond, Victoria 3121
Opening hours:
Wednesday to Friday – 12noon to 6pm
Saturday – 1pm to 5pm
Or by appointment – gallery@climarte.org
Visit the CLIMARTE Gallery's website here.
As our Gallery is also available for hire by trusted groups and individuals, please consider us if you're looking for a venue for a special meeting or event. Visit here for full details.
CALL OUT FOR VOLUNTEERS
CLIMARTE is seeking volunteers to work in the Gallery. Assistance is required during exhibition installation and during gallery hours for invigilation. Please get in touch via gallery@climarte.org if you're keen to help!