Mandy Martin with Alexander Boynes and Tristen Parr, Rewriting the Score, Latrobe Regional Gallery, 2019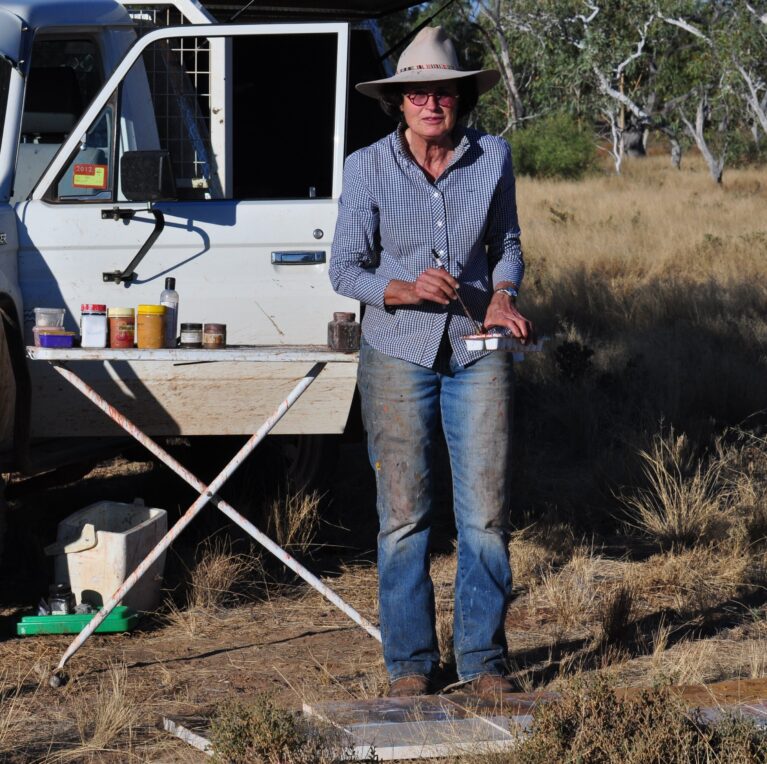 Vale Mandy Martin (1952–2021)
As a deeply ethical person, her art celebrated all that was beautiful in the human spirit and in our natural environment.
Our brilliant collaborator and wonderful friend Mandy Martin (1952-2021) was a highly influential artist, educator and a passionate environmentalist. Her painting practice emphatically explored the often fraught relationship between humans and the natural world.
The well-being of Australia's culture is so much richer for her and she will be sadly missed by those that did and did not know her. Mandy's legacy will live on through her powerful artwork, and her love for people and the environment.
Mandy was involved with CLIMARTE from the very beginning, participating in the first public forum, Art Climate Ethics: What role for the Arts, in February 2014. She subsequently participated in all three of CLIMARTE's ART+CLIMATE=CHANGE Festivals – curating the The Warming and An Anthropocene Cabinet of Curiosities at Australian Galleries in 2015, and creating two large scale collaborative works which were displayed at Geelong Gallery and Latrobe Regional Gallery – Luminous Relic (2017) and Rewriting the Score (2019). These works garnered much local praise as they described the challenges that specific communities face in changing economies caused by the climate crisis.
Her Legacy: an annual artist grant
In the final weeks of Mandy's life, she requested that donations be made to assist an annual artist grant, which her family would like to name in her honour. The details of this artist grant which will support creative responses to the climate crisis are currently being finalised. CLIMARTE will auspice the donations. If you would like to support this initiative, please click here, and when prompted tick the checkbox leave a message for the organisation, and write Mandy Martin Donation. All donations are tax deductible.
Further Reading
Tom Griffith's essay The beauty and the terror superbly captures Mandy's pioneering approach to life and her incredible contribution to Australian art.
Written for the Australian Academy of Humanities Symposium on the Humanities and the Climate Crisis (Nov 2021), Libby Robin's essay #ArtsforSurvival profoundly honours the creative leadership of Mandy Martin.
Luminous Relic, 2017, Mandy Martin, Alexander Boynes and Tristen Parr (installation view, Geelong Gallery) 2017 pigment, sand, crusher dust, acrylic and oil on linen; three–channel high–definition, stereo sound score; 6 minutes, 10 seconds. Courtesy of the artists and Australian Galleries, Melbourne and Sydney. Photographer: Andrew Curtis.