Art + Climate = Change II COVER
Bronwyn Johnson, Kelly Gellatly
An illustrated collection of artworks and essays that shine a light on how art can imagine a sustainable future and call for action on climate change.

ART+CLIMATE=CHANGE II presents the work of Australian and international artists across a broad range of exhibitions, performances and events from CLIMARTE's ART+CLIMATE=CHANGE 2019 festival. Essays on the climate emergency by artists, curators and arts writers help us imagine a world where we protect and care for the earth, from the river systems, oceans and lands to the air we breathe. In a world vastly changed by the impact of a global pandemic, these socially engaged artists and writers demand immediate and effective action on the climate crisis. We have no time to lose.
BOOK AVAILABLE AT THE CLIMARTE GALLERY, 120 Bridge Rd., Richmond 3121
$55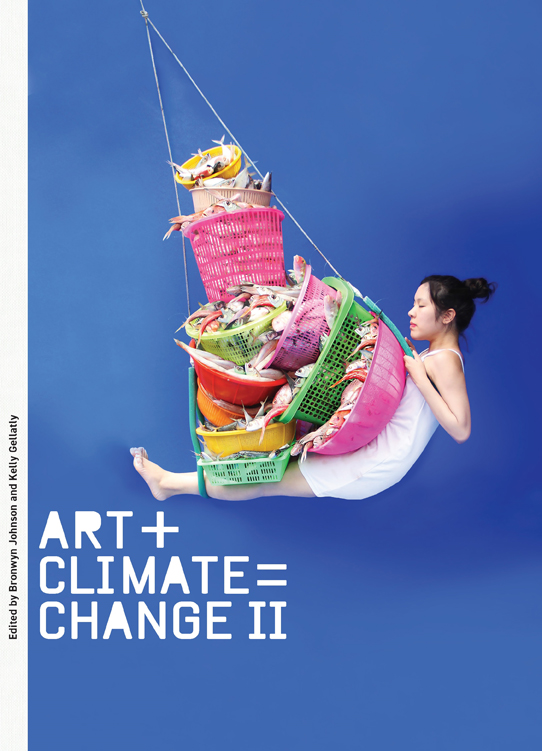 AUTHORS
Kelly Gellatly is an experienced arts leader, advocate, curator and writer. She has curated more than fifty exhibitions of the work of leading Australian and international artists and has published extensively on contemporary art, Australian modernism and photographic practice. She was director of the Ian Potter Museum of Art, Curator of Contemporary Art at the National Gallery of Victoria, and has held curatorial positions at Heide Museum of Modern Art and the National Gallery of Australia.
Bronwyn Johnson is a leading arts producer working across the visual and performing arts. She was executive director of CLIMARTE: Arts for a Safe Climate, directed and produced CLIMARTE's 2019 ART+CLIMATE=CHANGE II festival and co-produced the 2017 and 2015 festivals. She was CEO and artistic director of the Melbourne Art Fair and MAF Foundation and produced and devised the outdoor performance programs for the Melbourne International Festival of the Arts