Image above: Polly Stanton and Byron Dean, Emergent Fields. 2019, video still and stereo sound.
–
Image below: Pia Johnson, The Weight of Fallen Trees #2. 2021, archival inkjet print.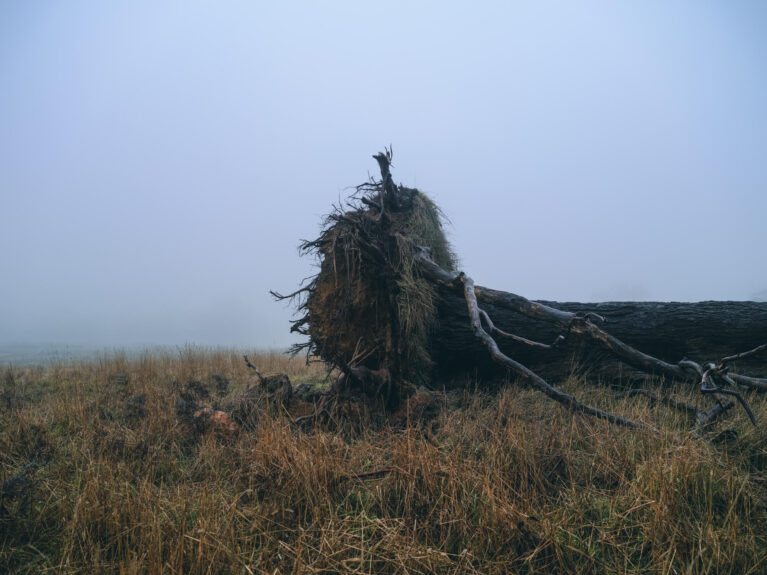 Invisible Winds
Without knowing it, I was being carried by the wind. Drifting here and there,
I did not know whether I rode on the wind or the wind rode on me.
Lieh Tzu, Lieh Tzu, 2.13 (translation by Eva Wong)
Depictions of wind often symbolises the chaotic, raw and brutal powers of nature. Created through the opposing forces of cold and warm air, wind can create severe and widespread destruction – moving oceans, eroding landscapes, toppling the built environment, and displacing communities. From desert storms and tornadoes to typhoons and hurricanes, winds typically instil fear. Yet as a productive force, wind has the energy and power we need to sustain our living needs. A cool breeze on a summer day is welcome and the sounds carried by whispering winds have been known to cast spells. Wind can also instil awe and wonder, connecting us to spirituality, folklore, history, and the changing of the seasons.
In exploring the many different moods of the wind, Invisible Winds featured a range of artistic mediums in dialogue (photography, painting, sound, film, installation, and performance) employed by artists who depicted, harnessed, and collaborated with the creative forces of wind.
Artists
Marnie Badham in collaboration with Tammy Wong Hulbert, Ai Yamamoto and George Akl, Vicki Couzens, Christiaan De Beukelaer, Pia Johnson, Kent Morris, Philip Samartzis, Polly Stanton and Byron Dean Gretel Taylor and Gülsen Özer.
Creative Producers, Marnie Badham, Pia Johnson and Tammy Wong Hulbert with curatorial intern Madeleine Sherburn from RMIT University.
Invisible Winds was produced in collaboration with RMIT CAST (Contemporary Art and Social Transformation), a research group based in the School of Art focused on artistic practices and research that critically engages with environmental, social and public spheres, intersecting with issues of equity, access and democracy.
Exhibition Details
Where: CLIMARTE Gallery, 120 Bridge Rd, Richmond
When: 26 April – 27 May 2023

Public Events
Artist Talk and Panel Discussion – 6 May 2023
Artists Pia Johnson, Philip Samartzis, Tammy Wong Hulbert, Marnie Badham and co-curator Madeleine Sherburn discussed physical and emotional attachments to wilderness and to place through socially engaged creative projects.
For event details, click here
Affect: Wind and the Body – 27 May 2023
As part of their artwork for Invisible Winds, Gretel and Gülsen facilitated a public movement workshop to introduce aspects of Body Weather physical training, as well as an experience of the practice developed for the exhibition.
For event details, click here
Invisible Winds Works List pdf >
Invisible Winds Artist Statements pdf >
To watch a video from Invisible Winds, click here
---
Invisible Winds Events
Event opening + Artist Talks + Workshops