Image above: Rachel Mounsey, Peter Gardner. Oculi photo.
–
Image below: Rachel Mounsey, 'Coal Face'. Oculi photo of podcasters Josie Hess and Steph Sabrinskas.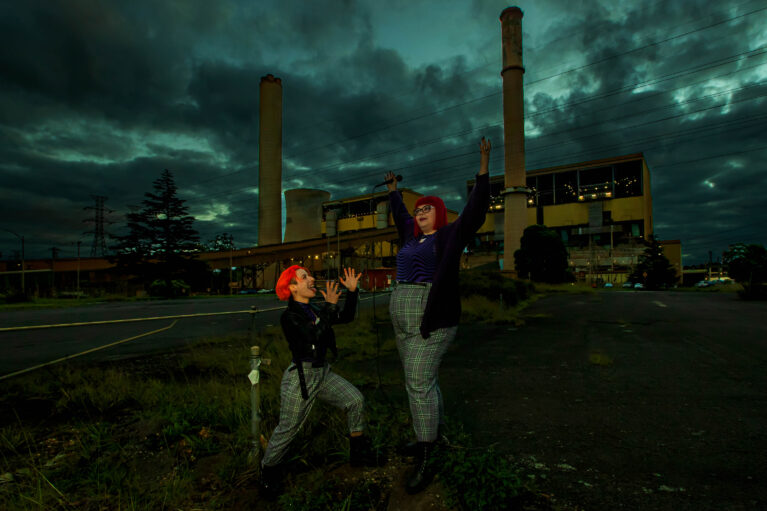 REGENEROSITY
REGENEROSITY was an exhibition of new work by Rachel Mounsey that portrayed the exuberance of Gippsland's sustainability landscape and its generous, persistent people.
A snapshot of Gippsland's people-led response to climate change across a vast region.
REGENEROSITY used the raw Gippsland landscape and its changemakers, as the core vision for the show. Rachel Mounsey took on a 3-month photographic journey of the region to discover the individuals leading change for cleaner ways to live, work, travel, communicate and care for country .
To the series instigators – the Gippsland Community Power Hub and FLOAT – this show was about the manifestation of sustainability, belief and dedication.
Fuelled by the lifelong local knowledge of the Gippsland Climate Change Network team, this series heralds their collective voice in finally tipping the balance towards new energy for Gippsland. A regenerative Gippsland perhaps.
Loving the humble way Gippsland's sustainability changemakers have lead the transition, inspired the series. While mapping out the sectors of sustainability leadership across Gippsland, the theme for REGENEROSITY began to flow.
This work focused on citizen epiphany, local manifestation, and global acclaim (and all the things that happen in between) as a basic tenet for climate change action in a range of contexts : a determined marine biologist in her small hometown, an engineer at his worn desk, a timber miller in forests he's conserved, a philanthropically inspired café delivering sustainable fine dining, the developer who has blown all our minds with his emission-busting vision, the dairy farmers who have turned the tables on renewable ingenuity.
Through personal encounters, in our much-loved places, this work explored how people's context shapes, drives, and ultimately makes us stand up for what we want for others, ourselves, and those to come.
Rachel Mounsey has become one of Gippsland's most acclaimed photographers. As a resident of Mallacoota in Far East Gippsland, Rachel's extraordinary photos and compelling community empathy emerged through the story of bushfire devastation during our Black Summer. Since then, she has been accepted into Oculi, one of Australia's most successful photographic collectives, and more recently entered all of our homes through the ABC documentary – People's Republic of Mallacoota.
Artists
Rachel Mounsey.
Exhibition Details
Where: CLIMARTE Gallery, 120 Bridge Rd, Richmond
When: 3 – 9 October 2022