Image by Karen Brown, N.S.W. "326 Maitland Rd Aerial" From the series "326 Maitland Rd".
This vacant lot covered in abandoned white goods is right in the middle of a main street of Mayfield, Newcastle. I hadn't seen it previously, but whilst doing a drone shoot for a regular client, I discovered it. This view shows the bizarre scene as I first saw it. Bewildered and intrigued, I returned and completed a series of photographs of the same lot from the ground. My work shows an abstracted beauty within the patterns; but highlights the shocking nature of our human throw-away culture. Mass consumerism and financial greed take a higher priority than our environment far too often.
Change wish – I long for better quality and a return to more locally manufactured goods. International trade has its place, but it is from the governments and policies that we can obtain and retain a better quality of products and in turn help reduce pollution and landfill. Not that long ago it would be more common and economical to repair a large appliance; sadly today it is cheaper, faster and easier to replace them with new. Things definitely don't last as long as they used to. I would love for government to implement policies to address the quality of our consumer goods, thus ultimately helping to reduce pollution and landfill. Better made items that last longer may cost more in the short term, but are worth fixing, renovating, selling. The long-term benefit is less pollution. Nobody (not even climate deniers) can deny the urgent need to address pollution and landfill.
The #everydayclimatecrisis Visual Petition, on show at the CLIMARTE Gallery,
18 June - 2 July 2022

The #everydayclimatecrisis Visual Petition is the result of a call out to all women and non-binary people of Australia to create images about Australia's climate crisis, in their local area and country-wide.
The Petition's 1,248 printed images showing the effects of climate change were delivered to Federal Parliament in Canberra on 9th June 2022. The ultimate aim is for them to be waved around in Question Time, not a lump of coal.
Hilary Wardhaugh started this project because, instead of feeling helpless about climate crisis we face, she wanted to do something. So, she started to crowd source images from a diverse community of women and non-binary photographers in Australia.
Drawing from the old adage that 'a picture is worth a 1000 words' the aim was to get 1000 images which metaphorically equates to 1,000,000 words and collectively having 1000 images responding to the climate crisis, from women all over Australia will become a powerful feminist document.
When: Saturday 18 June – Saturday 2 July 2022.
Where: CLIMARTE Gallery
120 Bridge Road
Richmond VIC 3121
CLIMARTE is honoured to show the actual petition and and an exhibition of some of the artworks included. Artists showing: Michelle Ferreira, Julie Sundberg, Indya Connley, Kelly Slater, Melissa Stewart, Katherine Boland, Shanella Majid, Jennie Groom, Julie Shiels, Karen Brown, Christina Simons, Celia Furt, EJ Hassan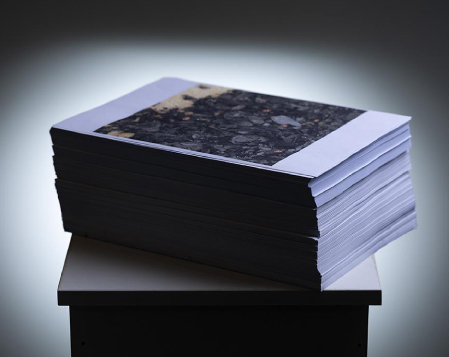 The #everydayclimatecrisis Visual Petition
Image of The #everydayclimatecrisis Visual Petition by Hilary Wardhaugh
More about the Petition >
Images submitted have been created by using a phone cameras, digital cameras or film cameras, there is no age limit or need to be a professional photographer or artist.
Creators always retain their own copyright. It was important to include phone photographs to make the Petition as democratic as possible, giving a voice to people who would not necessarily have a say, including those most vulnerable to the effects of climate change.
It is an egalitarian approach to photography and shows for personal, local images and creations to be used in protest and to humanise the issue, for the greater good. Hilary calls it photo activism. It is speaking truth to Power, by women and non-binary people. It is actual evidence, not just a signature!
In the Petition title the word "everyday" is used. It is not the intention that the images are photographically or contextually ordinary, but it does mean that images illustrating the effects of climate change are seen "everyday" or more importantly that many of us think about this climate crisis "everyday". Ironically, it is not everyday we have a climate crisis. This is a one off; our only chance.
The #everydayclimatecrisis Visual Petition allows women to be seen, heard and considered and challenges the industrial, capitalist and economic systems that have gotten us to this point.
Hilary wanted women to respond to the call out literally but also emotionally, personally and creatively.
So, with this in mind she sought a variety of images, including those that illustrate the beauty of the land we live on, cultural practices to enhance and regenerate the lands and hope generated by photos of humans doing great things to repair damage. Too much negativity and our problems are seemingly insurmountable so by adding some positivity and hope the Petition will inspire and help and change our behaviours.
With the images submitted each woman lists their demands for government policy change.
See this ABC feature article: https://www.abc.net.au/news/2022-02-19/climate-change-photo-petition-parliament-/100841864
All Petition images can be seen here: https://womenphotoaus.photoshelter.com/galleries/C0000fI.V6W16l0c/G00004UMAiDroEhI/everydayclimatecrisis-Visual-Petition-Gallery
Contact:
Hilary Wardhaugh
Email: hilary@hwp.com.au or womenphotoaus@gmail.com
www.womenphotographersaustralia.com.au
Some images and reflections of the opening night here:
The #everydayclimatecrisis Visual Petition
Reflections on Climarte Visual Petition Opening Night by Daniella Conser (some photos courtesy Daniella as well)
The petition recently crossed state borders finding a welcome and apt home in Melbourne's CLIMARTE Gallery. Understood to be the world's first Climate Emergency, The CLIMARTE Gallery launched The Visual Petition Exhibition featuring a hard copy of the petition, video instalment and curated display of select artist's images. With a shared passion for climate and environmental activism through the creative power of the arts, the collaboration between the team at CLIMARTE and Women Photographers Australia proved matrimonious.
The opening night of the exhibition saw artists and supporters alike gather with a sense of collectivism, awe and hope. Entering the gallery, met with the large stacked pile of pages from photograph submissions and the hard-bound copy of the petition, the enormity of the contributions and voices platformed was striking.
Similarly striking was the diversity in imagery and interpretation through the diverse lived experiences and lenses of the contributing women and non-binary photographers. The contrast of conceptual and interpretive artistic approaches to those raw and unfiltered, provides such diversity. Aptly reflecting the individuality and variation in one's experience of "everyday climate change."
The theme of people power permeated the space and discussion. The petition provided a platform for individuals to connect, converse and express personal experiences and perspectives. This collective contribution toward a project prompting a shared desire for action provides a sense of comfort and aspiration.
The exhibition prompts a variety of emotions and facilitates a space for reflection. The physical copy of the petition is available to write in; for one to convey their desires and hopes for climate action. A beneficial addition to document reflections and thoughts.
"A picture is worth a thousand words" and the tens of thousands of words from the 1,248 petition submissions resoundingly and collectively have filled the gallery.
Echoing sentiments of change.