Image above: Karen Brown, 326 Maitland Rd Aerial.
–
Image below: Hilary Wardhaugh, The #everydayclimatecrisis Visual Petition, 2022. Photo of the petition entries.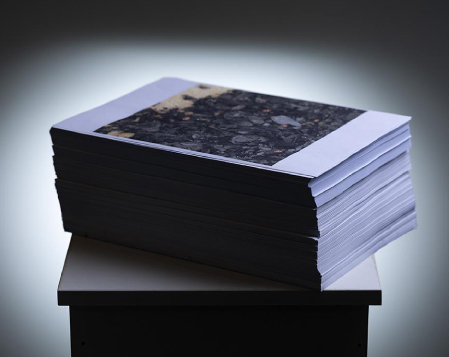 #everydayclimatecrisis Visual Petition
The #everydayclimatecrisis Visual Petition was the result of a call out to all women and non-binary people of Australia to create images about Australia's climate crisis, in their local area and country-wide.
The Petition's 1,248 printed images showing the effects of climate change were delivered to Federal Parliament in Canberra on 9th June 2022. The aim was for them to be waved around in Question Time, not a lump of coal.
Hilary Wardhaugh started this project because, instead of feeling helpless about climate crisis we face, she wanted to do something. So, she crowd-sourced images from a diverse community of women and non-binary photographers in Australia.
Drawing from the old adage that 'a picture is worth a 1000 words', the aim was to get 1000 images which metaphorically equates to 1,000,000 words and collectively having 1000 images responding to the climate crisis, from women all over Australia would become a powerful feminist document.
(Images submitted have been created using a phone cameras, digital cameras or film cameras, there was no age limit or need to be a professional photographer or artist).
Artists
Katherine Boland, Karen Brown, Indya Connley, Michelle Ferreira, Celia Furt, Jennie Groom, EJ Hassan, Shanella Majid, Julie Shiels, Christina Simons, Kelly Slater, Melissa Stewart and Julie Sundberg.
Creative Producer, Hilary Wardhaugh.
Exhibition Details
Where: CLIMARTE Gallery, 120 Bridge Rd, Richmond
When: 18 June – 2 July 2022
More about the Petition
ABC Feature Article 
Adrienne Francis and Tahlia Roy's article,"These women are tackling Australia's climate change crisis through photographs"  for the ABC.
To access the article, click here
Reflection by Daniella Conser, #everydayclimatecrisis Visual Petition Opening Night
"The petition recently crossed state borders finding a welcome and apt home in Melbourne's CLIMARTE Gallery. Understood to be the world's first Climate Emergency, The CLIMARTE Gallery launched #everydayclimatecrisis Visual Petition Exhibition featuring a hard copy of the petition, video instalment and curated display of select artist's images. With a shared passion for climate and environmental activism through the creative power of the arts, the collaboration between the team at CLIMARTE and Women Photographers Australia proved matrimonious.
–
The opening night of the exhibition saw artists and supporters alike gather with a sense of collectivism, awe and hope. Entering the gallery, met with the large stacked pile of pages from photograph submissions and the hard-bound copy of the petition, the enormity of the contributions and voices platformed was striking.
–
Similarly striking was the diversity in imagery and interpretation through the diverse lived experiences and lenses of the contributing women and non-binary photographers. The contrast of conceptual and interpretive artistic approaches to those raw and unfiltered, provides such diversity. Aptly reflecting the individuality and variation in one's experience of "everyday climate change."
–
The theme of people power permeated the space and discussion. The petition provided a platform for individuals to connect, converse and express personal experiences and perspectives. This collective contribution toward a project prompting a shared desire for action provides a sense of comfort and aspiration.
–
The exhibition prompts a variety of emotions and facilitates a space for reflection. The physical copy of the petition is available to write in; for one to convey their desires and hopes for climate action. A beneficial addition to document reflections and thoughts.
–
"A picture is worth a thousand words" and the tens of thousands of words from the 1,248 petition submissions resoundingly and collectively have filled the gallery.
–
Echoing sentiments of change".