Image above: Louise Rippert, Reflect. 2019, paper, vinyl, metallic thread, gouache and Lunaria annua seed pods 100cm x 100cm.
–
Image below: Tim Catlin, Asmund Heimark & Carolyn Lewens, Submerge: the coming community. 2011, video still.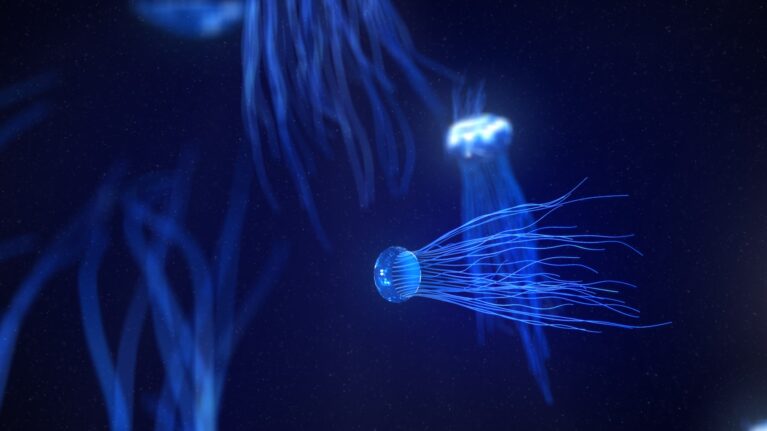 FLOW
Another world is not only possible, she is on her way.
On a quiet day, I can hear her breathing.
― Arundhati Roy
In the context of the Climate Emergency, and timed with the end of the financial year, FLOW was an exhibition exploring what a better future looks like.
As a medium of exchange, the word currency is derived from the word current, the origin of which was curraunt meaning flowing (c. 1300). Like thriving ecosystems, healthy economies depend on healthy flows of life sustaining resources.
Examining the flow between money, politics, information and power, artwork in FLOW posed critical questions about financial flows, reminds us of the vital interconnections and interdependencies between all life, and showed the profound possibilities of economic systems based on respect and reciprocity.
Artists
Melissa Corbett, Rod Gray, Pam Kleemann-Passi, Linda Knight, Jo Lane, Carolyn Lewens, Jenny McCracken, Sarah Metzner, Paul Prato, Jen Rae, Bronwyn Razem, Louise Rippert, Adam Stone and Giselle Wilkinson.
Creative Producer, Deborah Hart.
Exhibition Details
Where: CLIMARTE Gallery, 120 Bridge Rd, Richmond
When: 31 May – 1 July 2023
Public Events
FLOW Artist Talk – 14 June 2023
What makes a 'creative economy'?
FLOW artists discussed their work and exchanged ideas for transitioning to a 'creative economy', one that supports all people and the natural world to thrive.
For more details, click here. To see a video of the event click here. 
FLOW Artist Talk – 17 June 2023
What is the role of the Arts in a 'wellbeing economy'?
FLOW artists came together for a special viewing of their work and to share ideas about what a creativity-driven 'wellbeing economy' could look like and how to bring it to life.
For more details, click here