Image above: Beyonce in a Bethany Cordwell, made with 12,000 scales that were hard-cut from plastic document folders and sewn on.
–
Image below: KITX garment, Future Love Trench. Recycled denim.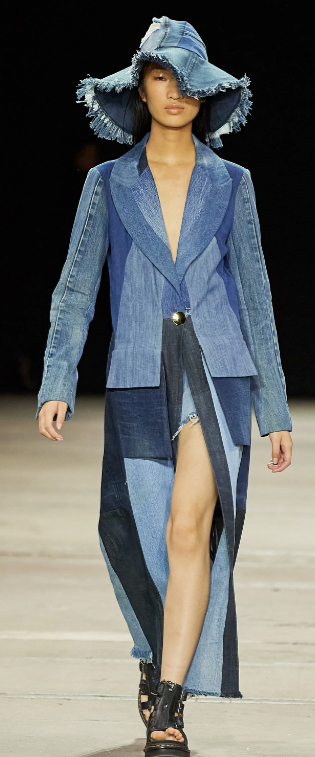 Hanging by a thread
Timed to coincide with Melbourne Fashion Week, an exhibition that inspires and enlightens us to the climate and environmental impact of fashion design and production, and the exciting developments that could transform the industry from being appallingly ecocidal to one that genuinely is absolutely fabulous.
Artists
Bethany Cordwell, Jacqui Henshaw, Jill Johanson,  Serap Osman, Kit Willow of KITX , Sunday Smith and Obi Herron.
Creative Producer, Jacqui Henshaw.
Exhibition Details
Where: CLIMARTE Gallery, 120 Bridge Rd, Richmond
When: 12 – 29 October 2022
Opening Event: 13 October 2022
Public Events
COST: Behind the seams. Melbourne Fashion Week Event – 14 October 2022
As part of Melbourne Fashion Week CLIMARTE proudly presented COST: Behind the seams. Delving into the environmental consequences and climate impacts of fashion design and production as well as exciting developments that could positively transform the industry, this public discussion featured leaders in sustainable fashion, Kit Willow of KITX, Courtney Holm of A.BCH and author Lucianne Tonti (whose book Sundressed explores a future remade by natural fibres). See event details here.
Artist Talk – 19 October 2022
Creative Producer Jacqui Henshaw and participating artist Jill Johanson led a private viewing and public discussion about their work and trends in the fashion industry towards ecological and social sustainability. See event details here.
Hanging by a thread Works List pdf >
Hanging by a thread Artist Statements pdf >
For specially commissioned Hanging by a thread video by JKHenshaw, Obi Herron and Sunday Smith, click here
A special thanks to Melbourne Fashion Week for their assistance in presenting COST: Behind the seams.
Hanging by a Thread Opening Event