Robyn Rich, 'Peas, carrots and celery' fabric, thread, filing and paint, life size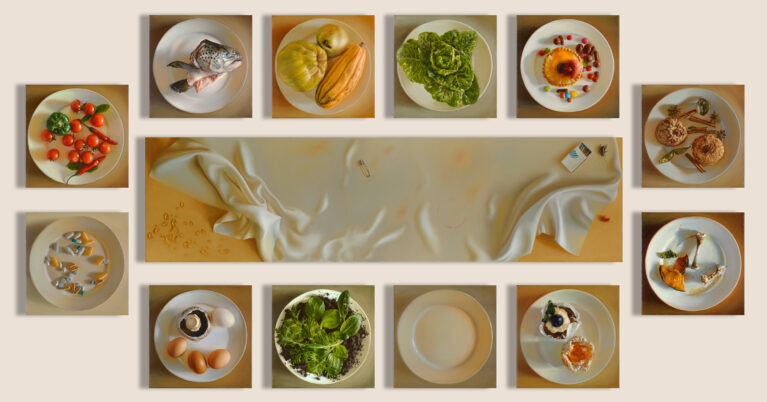 FOOD
We all rely on food.
Food is nourishing and poisonous.
Feeding the world; feeding the soil, feeding the plants. feeding the animals and feeding the 8 billion* people on the planet, takes on dystopian proportions.
Does locally, conscientiously, collaboratively and responsibly produced food exist with massively polluting /ecocidal food?
Is fair food, affordable and accessible food, for all people, a dream or an unreal nightmare? Food is a commodity owned and corporately controlled for massive output and turn over with short term profits. Food is a currency that shapes our lives and society. We wonder what feeds the artists.
CLIMARTE presents an exhibition and public events on food including a commissioned piece**,exploring aspects of food choices on our health and the health of ecosystems upon which all lives depend.
Featuring works by: A.R. & ACE, Magdalena Bors, Julie Joy Clarke, Louise Feneley, Deborah Kelly, Ian Paradine, Jenny McCracken, Hertha-Kluge Pott, Robin Rich, Lichen Kelp and Cafe Lab
Creative Producer: Jacqui Henshaw
Exhibition details:
Where: CLIMARTE Gallery, 120 Bridge Rd, Richmond
When: 30 November – 21 December 2022
Special FOOD events, please visit the links for details and to book:
SASi Greens, Artist Talk – 7 December 2022, 6pm to 8pm
Artist Talk with ACE & A.R. – 13 December 2022, 6pm to 8pm
Spontaneous Plant Walk – 14 December, 5pm to 6pm
Awkward Holiday Lunch – 15 December, 12noon to 2pm
Image: The Committee for Global and Social Warming by Louise Feneley (2011)
*statistic published on 15 November 2022 by United Nations
**commissioned work by Cafe Lab made in situ.
Invite to the opening night of FOOD. Image: Robin Rich, 'Still Life with Egg', Oil on aluminium panel 52 x 44 cm
This project has been assisted by the Australian Government through the Australia Council for the Arts, its arts funding and advisory body, as well as the City of Yarra.