Image above: Robyn Rich, Peas, carrots and celery. 2005, fabric, thread, filing and paint, life size.
–
Image below: Louise Feneley, The Committee for Global and Social Warming. 2011, oil on linen.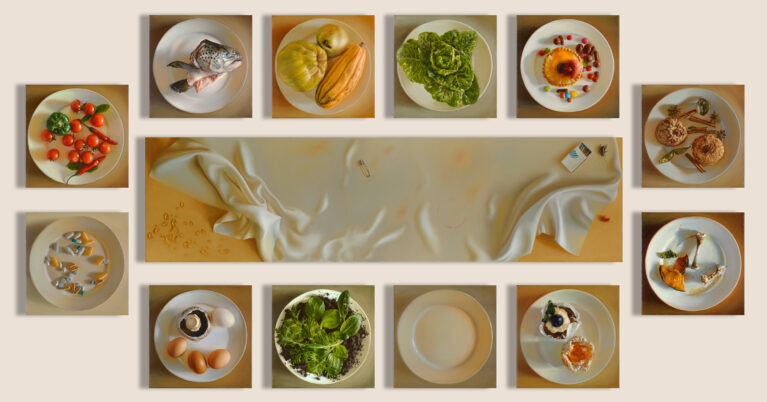 FOOD
We all rely on food. Food is nourishing and poisonous. Feeding the world; feeding the soil, feeding the plants. feeding the animals and feeding the 8 billion* people on the planet, takes on dystopian proportions.
Does locally, conscientiously, collaboratively and responsibly produced food exist with massively polluting/ecocidal food? Is fair food, affordable and accessible food, for all people, a dream or an unreal nightmare? Food is a commodity owned and corporately controlled for massive output and turn over with short term profits. Food is a currency that shapes our lives and society. We wonder what feeds the artists.
Timed to coincide with the festive season when many food decisions are made, this exhibition and associated public events explored all aspects of food choices on our health and the health of ecosystems upon which all life depend.
The exhibition also featured a semi-edible therestofus tree by Cafe Lab (made in situ).
Artists
A.R. & ACE, Magdalena Bors, Julie Joy Clarke, Louise Feneley, Deborah Kelly, Ian Paradine, Jenny McCracken, Hertha-Kluge Pott, Robin Rich, Lichen Kelp and Cafe Lab.
Creative Producer, Jacqui Henshaw.
Exhibition Details
Where: CLIMARTE Gallery, 120 Bridge Rd, Richmond
When: 30 November – 21 December 2022
Public Events
Spontaneous Plant Walk – 14 December 2022
As a part of FOOD, Spontaneous Plant Walk was led by Collingwood based art collective, Studio 15 – Adele Daniele, Sarah Lynch and Daniella Ruffino. The event invited a discussion on urban biodiversity, pollination pathways and mitigating climate change in the City of Yarra. With a focus on the unique plant life that flourishes in novel ecosystems such as abandoned or overgrown lots, rooftops and cracks in the pavement.
For more information and event details, click here
Awkward Holiday Gathering – 15 December 2022
Participating artists Jenny McCracken and Helen Addison-Smith joined artist-researcher Dr Jen Rae and FOOD Creative Producer Jacqui Henshaw for a public discussion exploring all aspects of food systems and how to have a festive meal that also celebrates the natural world upon which all food depends. Discussions also included an exchange of tips for navigating 'awkward' conversations with people who aren't comfortable with scientific facts. For more information and event details, click here. For audio recording of this discussion, click here
*United Nations statistic, released 15 November 2022